Percko review: A simple t-shirt against back pain?
You may have the impression that I take you for hams. But not at all…
As incredible as it may seem, the company Percko markets a t-shirt against back pain. "How the hell is that possible?" you will probably ask me, a background of disbelief in your haggard eyes (note that I did not say bovine 😀 ).
The subject is all the more serious as back pain affects 80 % of us one day or another. So, discover the rest of this article to learn more about this revolutionary invention…
Today I'm going to give you my opinion on the Percko Lyne Up t-shirt intended to be worn all the time or almost all the time (you have to wash it from time to time).
From skepticism to openness
First, everything went well for delivery, fast with a square box that seemed to protect the package well.
On that side nothing to say, it's perfect and well presented as you can see in the photos.
But to be completely honest with you, my first feeling was complete skepticism. Indeed, the t-shirt is very light, made of a fine technical material in which are embedded elastic tensor bands . It is precisely these strips that are supposed to make all the difference.
I sincerely wondered if this product really had the ability to help me correct my posture or if it was just one more gimmicky product… After all, rotten or unusable stuff has been invented since the liner France and the sniffer planes 😉
But since the results of the Percko t-shirt are based on a clinical study, it was worth a try.
Percko T-shirt review: A pleasant surprise in use
I must admit that I was not thrilled the first day of use because I did not really feel the effects of the t-shirt. But it was only an impression.
After 2 days of adaptation, I really felt the difference. I suffer from a lumbar hyperlordosis and cervical since the age of about 14 due to an extremely rapid growth spurt. It means that my spine is not not properly aligned in profile view and that my shoulders tend to tilt forward.
I have actually noticed that my shoulders straighten naturally as soon as I put on the shirt. Which opens up the rib cage at the same time. It's pretty amazing! It's almost as if the Percko shirt reprograms the back muscles so that they adopt the correct position. And that forces you to stand up straight.
Sure, strength training already helps me straighten my back, but it's easy to pick up bad posture. This is the case when if you work sitting down for hours. However, even in this position, the t-shirt calls you to order in an almost unconscious way.
Really an anti back pain t-shirt?
In fact, I think that the word t-shirt is not necessarily the best to define this product. But I find it difficult to define it otherwise to sell it, and that's probably why Percko called it that. In any case, it is sure that it contributes to the treatment of back pain in the medium and long term.
Read on to understand…
A kind of natural corset against bad posture
In use, I would rather define the anti back pain t-shirt as an ultra light corset . But instead of doing all the holding work like traditional props would, the Percko Lyne Up instructs your muscles. It is a real posture corrector through muscular activity. Thus, your body does this work of maintenance itself without you really realizing it.
And that's really the advantage of this technical product. Your back adopts the right position by its own forces. As you can see in the image above, the tensor system allows you to define the force exerted on the back.
So, it is true that at the beginning, you may feel some muscle pain since your body is making a constant effort to adopt the best posture. But the more you use this t-shirt, the stronger your muscles will be.
Percko t-shirt review: It intuitively gives you good posture
This process of back muscle development therefore has a long-term effect. And that is fabulous!
Instead of having to wear the t-shirt constantly, I already noticed a big change after 2 weeks of regular use (about 5 days a week). Indeed, even without the t-shirt, my shoulders naturally tend to straighten, as if the muscles were programmed.
And this is an undeniable advantage of the Percko Lyne Up. Gradually, the need to wear the t-shirt is less felt because the brain and the muscles do this postural work unconsciously. You will probably need to put it on from time to time, as a booster shot. But I am convinced that the long-term effects are extremely beneficial.
Percko t-shirt opinion: conscious and unconscious progress
As you have read above, this t-shirt against back pain has a double advantage:
The tensors call you to order to correct the position of your shoulders in particular. You feel the tension and you feel the need to take a better posture.
Your brain and your muscles learn in 2 or 3 days to correct your posture without you thinking about it.
Of course, these findings come directly from my feelings, but I'm sure it must be like this for many users of Percko products.
Advantages and Disadvantages of Percko
I made a small synthesis of the strengths and weaknesses of the Lyne UP model:
Most

The lessers

Improved posture

naturally
A bit difficult to remove
Strengthened back muscles
Some pain at first
Solid materials
Fairly high price
Quickly becomes a habit
Effective even after removing it
Which Percko t-shirt model to choose?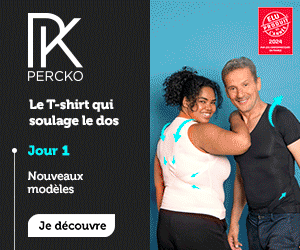 I'm not going to lie to you, I haven't tried all the models of t-shirt from the Percko range. But, you should at least know that this manufacturer had the good idea to offer 3 models depending on the use.
LYNE UP
The Lyne Up t-shirt is the most suitable for those looking to correct their posture on a daily basis. It can indeed be worn all the time or almost (a bit difficult when you are in a bathing suit on the beach). Of course, you can also use it while exercising, although the Lyne Fit was created for this purpose.
Find it on the official website Lyne Up model page.
LYNE FIT
The Percko Lyne Fit is designed for your sports sessions. If you need posture correction or protection during games or weight training, this tee produces more tension than the Lyne Up model. On the other hand, it is not made to be worn permanently.
You can find out more about this product at Lyne Fit model page.
LYNE HOME
This back pain t-shirt is designed for all home use for people who have a physical work. Often, bad postures adopted during working hours generate back problems. This model is intended to help you maintain good posture during your day. It will reduce your muscle pain and risk of injury.
You can find out more by visiting model page Lyne Home.
Which model to choose?
Well, it all depends on your habits, your goal and your profession. Here's how to choose if you only want one:
For a fix daily and if you have a desk job, buy the Lyne Up.
When you are looking to protect your back or limit bad posture for your daily activities and as part of a physical work, order a Lyne Home.
If your goal is to reduce the risk of back injury during sports, take a Lyne Fit.
Where to buy a Percko t-shirt?
You just need to go to the Percko official website.
Wash your Percko t-shirt gently
It is indicated in the instructions for use, but I prefer to remind you: this anti back pain t-shirt is a technical product. It therefore requires a gentle wash to last a long time. So, no washing at more than 30° and no machine drying. Treat it like delicate laundry. On the other hand, in use, it seems very sturdy. So you can use it every day without any problem.
Mine has already been washed several times and the quality seems to be really good. I've been using it for 3 years now when I feel the need and it's still in good condition.
How the Percko T-Shirt Works
In fact, it helps you through an ingenious system of tensors to acquire and maintain good posture throughout the day.
What impresses with this anti back pain t-shirt, is that it will relieve you even if you suffer from scoliosis, sciatica or osteoarthritis.
The best way to understand how this t-shirt can relieve your back is to follow this short video:
Percko t-shirt against back pain – Recognized and praised by the press
I must admit that I myself was skeptical when I discovered the Lyne range invented by 2 French engineers, Quentin Perraudeau and Alexis Ucko.
Their creation was also the winner of the World Innovation Competition in 2016. That's to say! In addition, this back pain t-shirt has sold more than 35,000 copies in 2 years of existence, which speaks volumes about the satisfaction of those who have tried it.
The Percko back pain t-shirt has been the subject of an international patent and has been clinically validated. You will find an article dedicated to him on the Figaro.fr website.
Percko Reviews - Conclusion
Some people criticize this product, but in my opinion it is a real success and the arguments in its favor are numerous in view of the immediate positive effect. It is even a very good purchase when you often work sitting. Indeed, we tend to slouch after a while and the T-shirt gently reminds the wearer.
But when they put on the Percko, many people get right back into the correct posture. In addition, the comfort is greater than when one has to support lumbar belts or other equipment.
It's almost sure, if you try it you will also adopt it. The few disadvantages of the product are largely compensated by the good it will do you in the long run. After all, it will cost you much less than physical therapy sessions and will save you time...
Of course, I want to specify that a tee shirt, as good as it is, does not exempt you from making exercises to strengthen the back muscles 😉
And you, have you had the opportunity to test this product or have you found another way to correct your posture non-intrusively?
In any case, whatever you do, remember to take care of your back. It's super important!
You can send me a message to share your experience or ask your questions at stephane@sportchezsoi.com